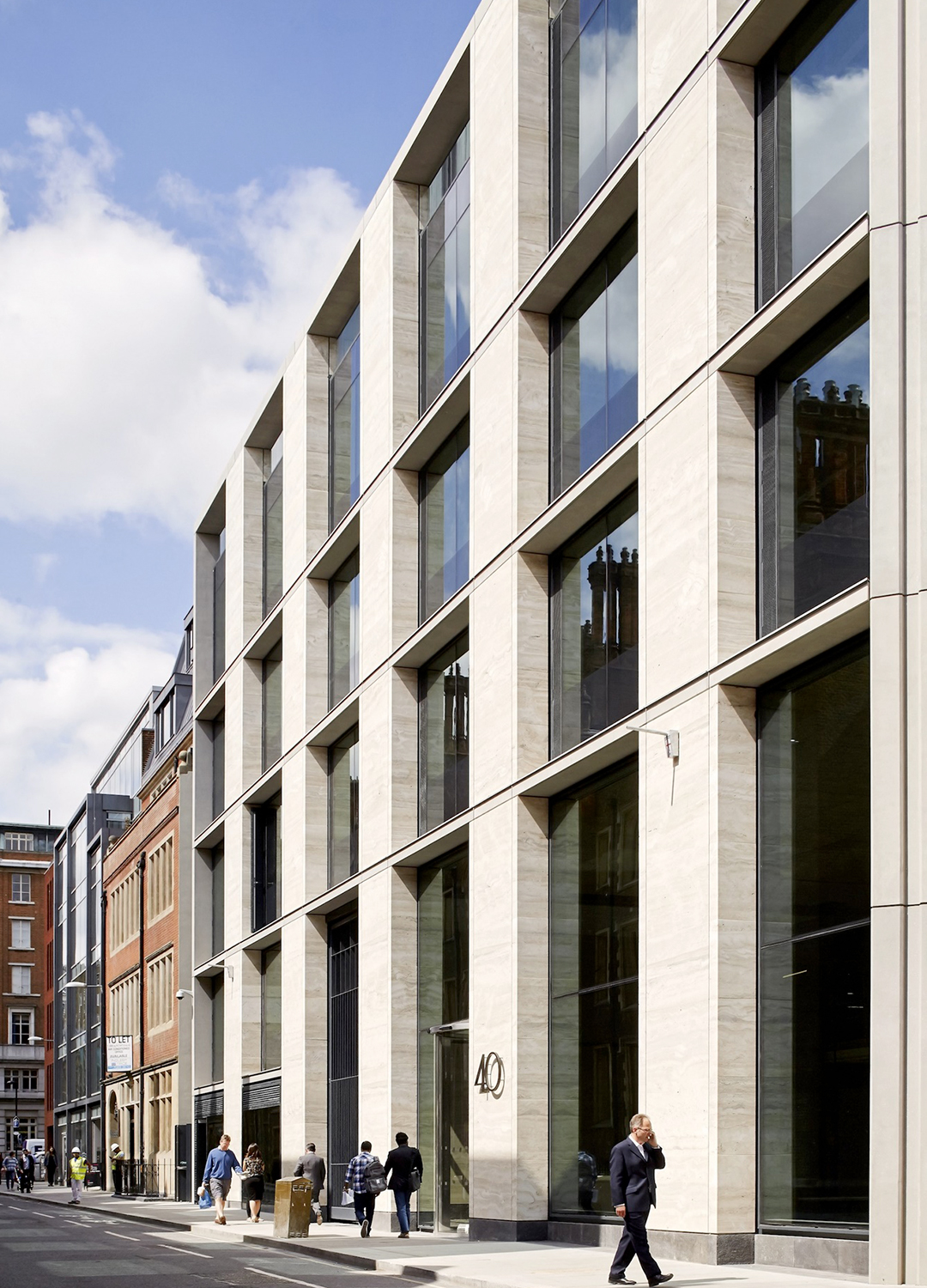 An elegant Travertine-clad complex of connected office blocks.
Architect:
Bennetts Associates
A welcome landscaped space in a dense urban location.
This project for developer Derwent London – an elegant Travertine-clad complex of connected office blocks – draws on the urban character of the local area and retains an existing 19th Century building on Took's Court. The 40 Chancery Lane building is located in the City of London's 'midtown', on a large corner site close to Chancery Lane station. Several existing, dilapidated structures were replaced with a 'U'-shaped series of connected office blocks, surrounding a rear courtyard.
The Bennetts Associates' design creates a mix of new office and retail space in the City. The historic street pattern of narrow passages leading to open spaces and courts is reinforced by a landscaped courtyard with a gated entrance off Chancery Lane. Located on a prominent corner site within the Chancery Lane Conservation Area, the scheme has been designed to respect adjacent listed buildings and to acknowledge surrounding scale, materiality and key views.
40 Chancery Lane will be the new London home for globally renowned advertising agency Saatchi & Saatchi, which is part of the Publicis Groupe. Working closely with Saatchi & Saatchi, Jump Studios has taken the 100,000 sq. ft, seven storey blank canvas provided by this Bennetts Associates' designed and created a bespoke and welcoming workspace that evokes the spirit of Saatchi & Saatchi as soon you enter the building.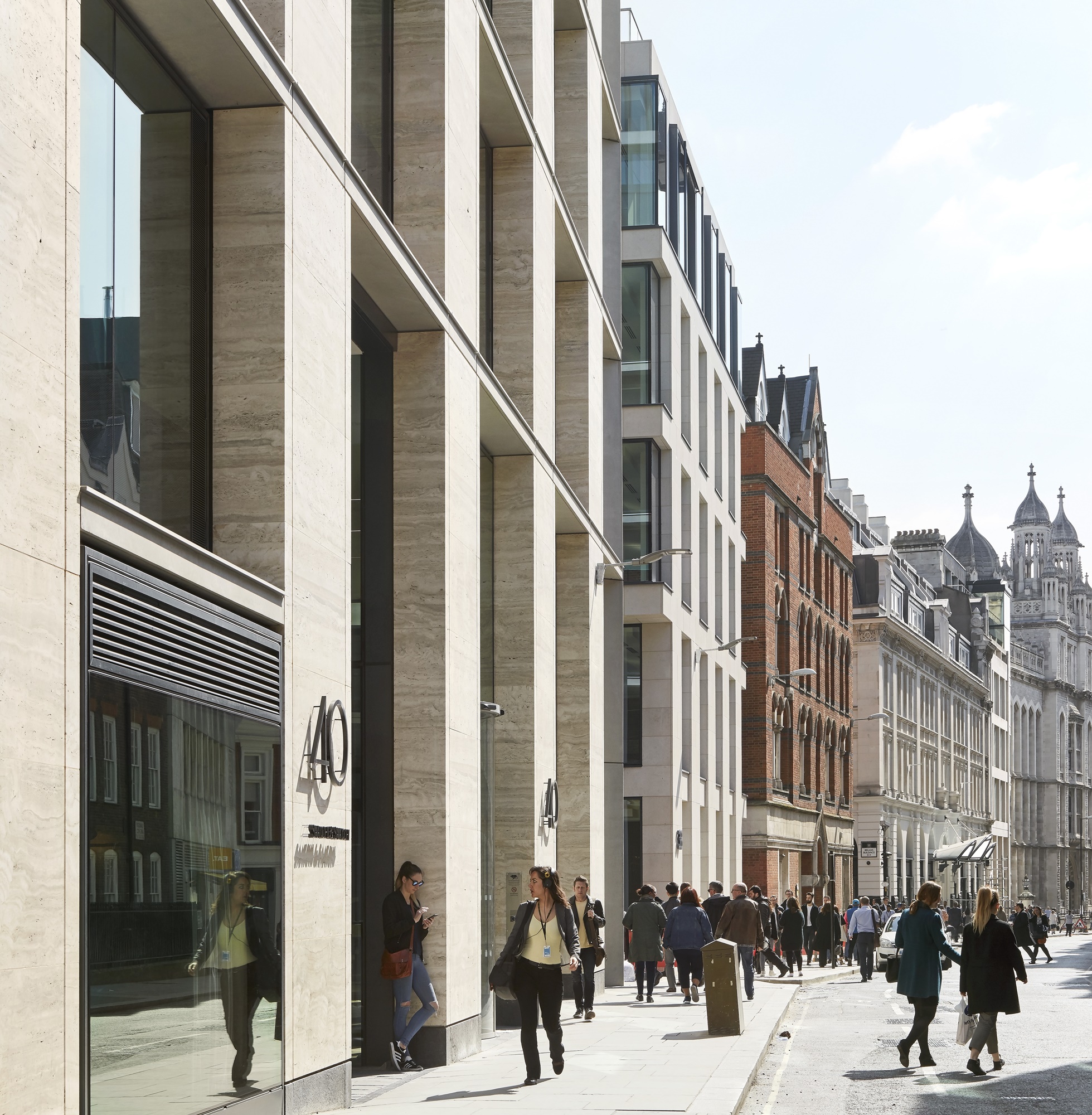 It set challenging targets for sustainability.
This is an extremely well-considered and resolved development, responding and exploiting the complex nature of the mix of uses: the brief, the courtyard space, and the retained building; while, at the same time, realising an elegant design and a sustainable energy solution.
The Category A design provides high-quality, flexible office space and achieved a BREEAM Offices 2008 rating of 'Excellent'. It set challenging targets for sustainability, with innovative passive plasterboard chilled ceilings, exposed thermal mass and opening windows, to achieve significant carbon reductions compared with a more typical speculative office development.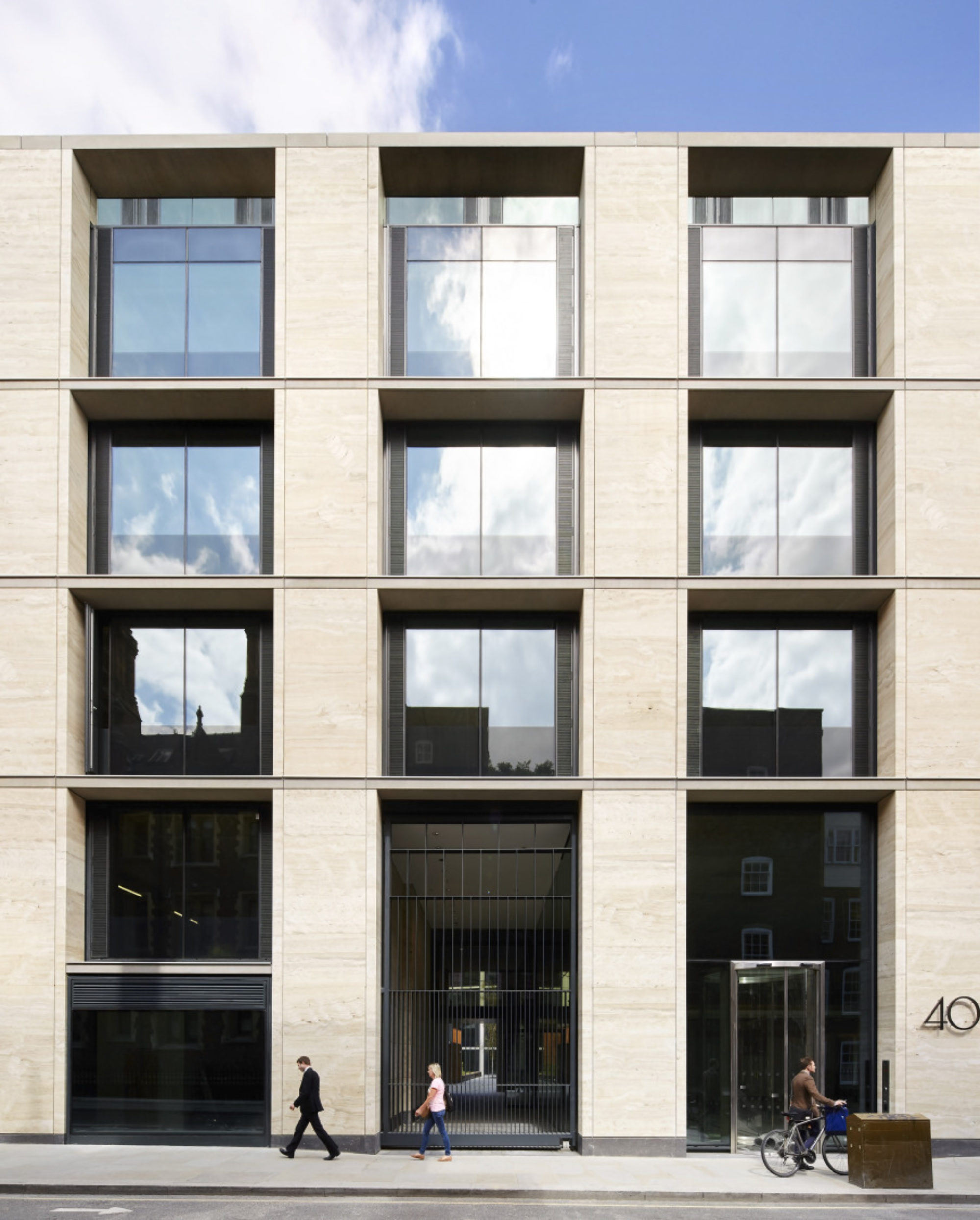 40 Chancery Lane wins RIBA London and RIBA National awards 2017.
The jury admired the elegant travertine-clad façade and appreciated the way the scale reduced on Cursitor Street. The innate variation in any natural material and the need for relative consistency, both visually and in terms of technical performance, meant that managing the stone was extremely important. This was achieved by several visits to both quarry and stone processing works over the course of the project.