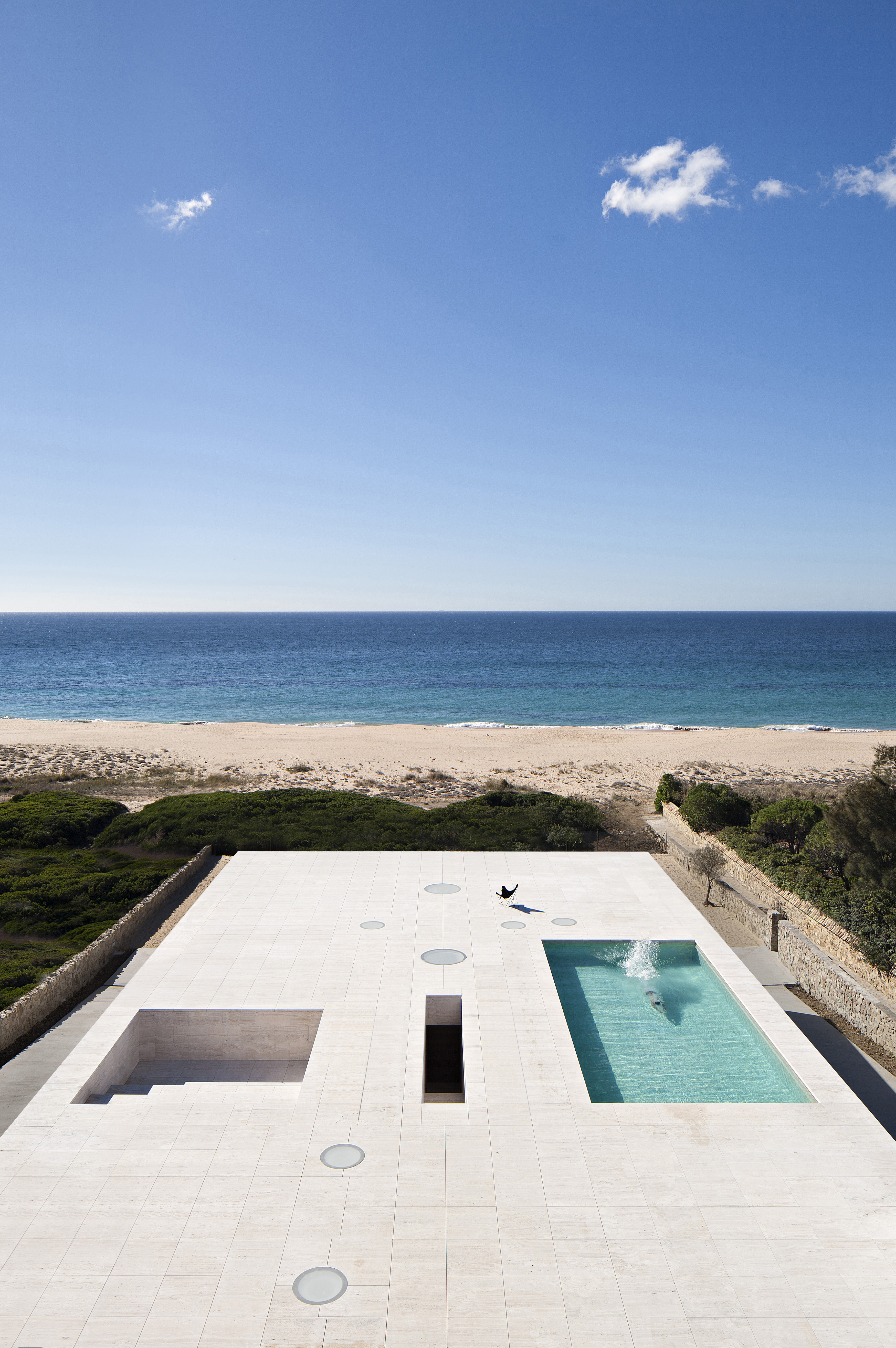 A house that emerges from the sand as a stone platform.
Architect:
Alberto Campo Baeza
In Cádiz Alberto Campo Baeza have built an infinite plane facing the Atlantic Ocean.
At the very edge of the waters of the Atlantic Ocean, where the sea unites the new and the old continent, emerges a stone platform built in Roman Travertine as if it were sand. To materialize this elevated plane, which is the main living room of the house, Alberto Campo Baeza built a large box with 20 meters of frontage and 36 meters deep. And under those first 12 meters he excavated two floors in the solid rock to develop the whole living space.
The platform is distinguished by the presence of a panoramic pool and several slits in the floor, which form skylights for the stairs below leading outside. Strong winds that rage on this stretch of land are contrasted by three imposing walls whose only purpose is to split the air flow and guarantee the right breeze for those enjoying the panorama from the terrace or diving into the pool.
Bolonia, the ruins of the fishing factories where the Romans produced garum and built temples to their gods a handful of centuries ago, is just a stone's throw away. In their honour Alberto Campo Baeza have built the House of the Infinite, an infinite plane facing the infinite sea.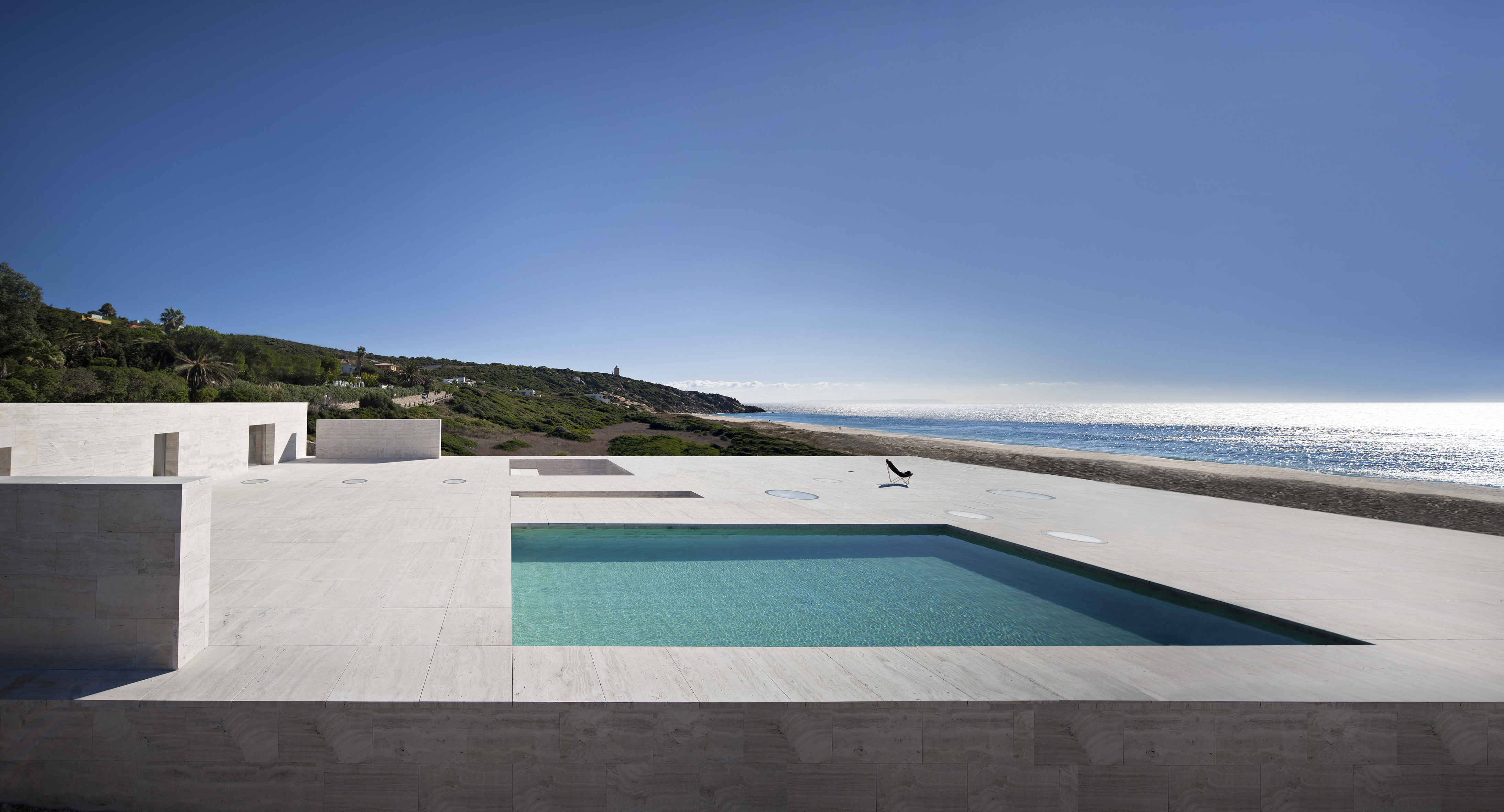 A wonderful travertine altar that owes much to Rembrandt and Curzio Malaparte's house on Capri.
The name Cadiz comes from Gadir, the Arabic word for fortress. Its port, which dates back to Phoenician times, long before Christopher Columbus and Amerigo Vespucci came along, is the point where the Mediterranean Sea and the Atlantic Ocean meet, and as such is a place of great symbolic significance.
The house was built on the beach and stretches out towards the sea like a podium. The inspiration, Campo Baeza explains, came from a 1655 etching by Rembrandt entitled Christ Presented Before the People, the architect was fascinated by the clean horizontal line running through the centre of the scene. But this villa also shows the influence of Curzio Malaparte's legendary villa in Capri, designed by Adalberto Libera in dialogue with the writer. The design project took its cue from these two references.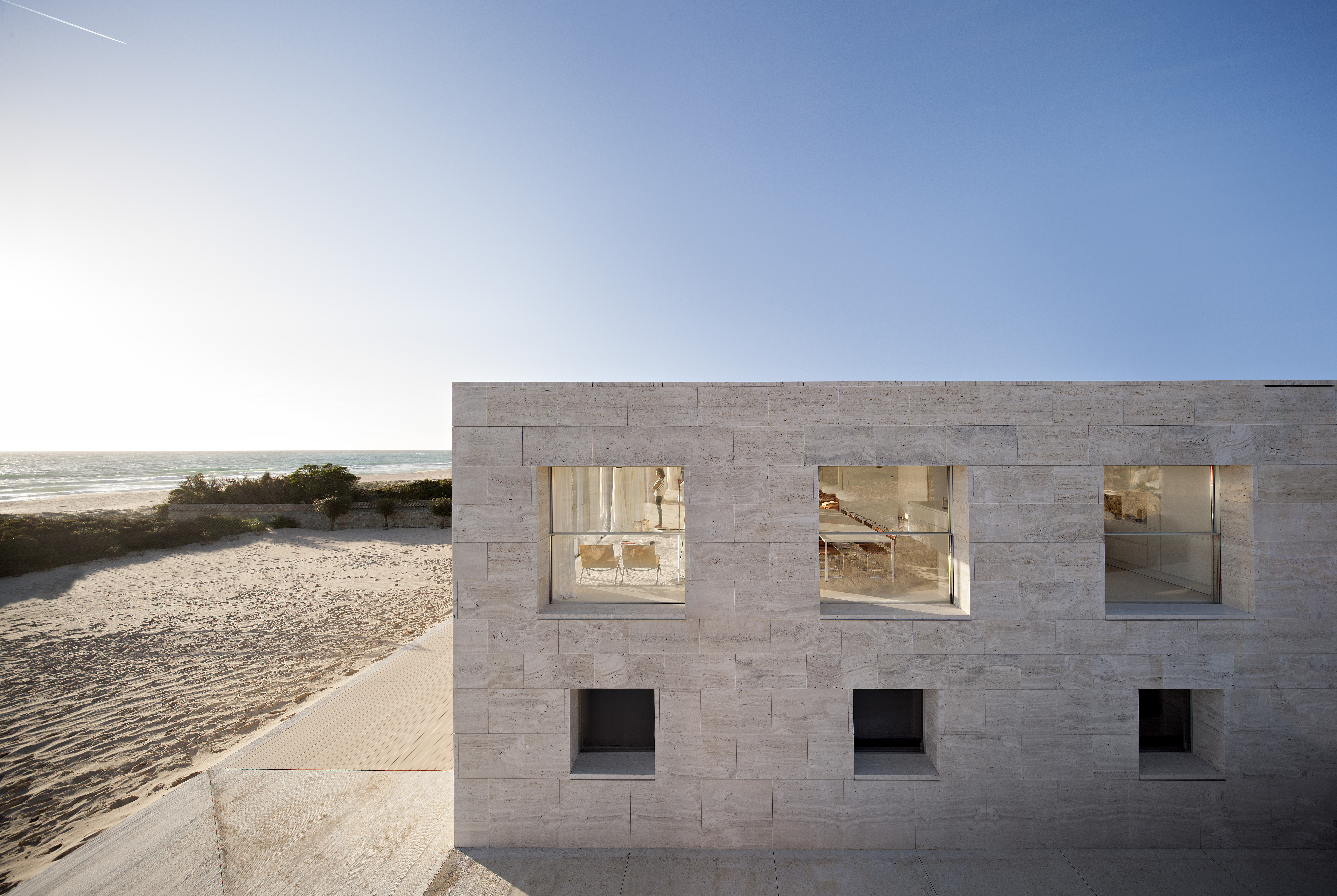 A place of worship to which the gods descend to interact with people.
The aim was to create a timeless place in which to escape from the world and contemplate the sea. Or rather,
to create something the Greeks called temenos (τεμενος), Campo Baeza adds, a place of worship "to which the gods descend to interact with people".
There is something classical – a reminder of Roman times – about the way in which the rooms of the house are laid out and communicate with one another. And this is perhaps no coincidence, considering that for a long period the Andalusian port was a "sentinel" of the Roman Empire.